Make Your Business Unique With a Toll Free Number
Get your own unique Toll Free Number and give your company a memorable and professional appearance.
Use Channels' Toll Free Numbers to make your brand stand out from the crowd
Make it easy for customers to remember your number
Nowadays, people have extremely short attention spans so help them remember the most important detail about your company. The phone number. With a Toll Free number, you'll be able to show a memorable phone number that will be easy to remember.
Appear professional and earn the trust
Making customers trust you is the first step to long-lasting relationships. Using a Toll Free number is the quickest way to earn trust and appear as a well-established entity. Plus, these are the industry-standard in the US so you'll fit into the best company!
Make it a no-brainer to contact your company
Toll Free numbers are the easiest way to make your customer call you when they need help. As they don't pay for the call, reaching out to your company is a no-brainer. Covering this option will help you make sure that your customer get help when they need it the most.
Learn how our customers improve their business with Toll Free Numbers
The biggest improvement after the switch to Channels was the number of quality calls our sales reps could make. With data organized for them and automated process of making a call, we've doubled the number of enterprise accounts closed via sales calls.

2way.app
What you get with a Toll Free Number
Record calls and live-listen to ongoing conversations
Record your calls and store them up to 365 days. Call recordings are great for training customer service reps and new agents. Plus, they give you a way to go back to any conversation you want. And with live-listening, you can join any call you need without being an active part of it. Support your reps without interrupting the caller.
Handle business calls using your favorite device
Use your new phone system wherever you want to. With our Mobile app, you can handle business calls even when out of the office. And with our Click-to-Call widget, you'll be able to make and take phone calls right from your browser. No matter on what webpage you're currently on.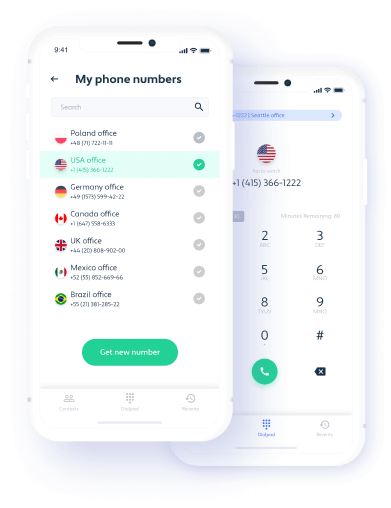 Fit Channels into your workflow
Channels integrates with platforms you're currently using to pull crucial customer data from them. Then, when your customers are calling, Channels presents all this information right in front of you in the form of a Customer Card. This way you can handle every call like you know it all. And, you can access this information right before the call starts.
So how does exactly a Toll Free Number work?
Let us explain!
It's really simple. Toll Free numbers start with 8XX prefix. That is the famous 800, as well as, 888, 877, 866, 855, 844, or 833. The best thing about Toll Free numbers is that these numbers are free of charge for the caller when calling within the same country. This means your customer won't be charged when they call your company. At first, it might seem weird - Why would I want to pay for their calls?! but it turns out that getting a Toll Free number might be one of the best decisions you make.
If the customer runs into a problem with your product or service the only way to make them stay is if they contact your company and reach out for assistance. Yet, if you make it hard enough, e.g. use a regular phone number, they might rather not call at all and look for an alternative solution. Thus, even though you take some costs when you let customers call via Toll Free number, you may secure customers who would otherwise churn.
Pick a Toll Free Number
Frequently asked questions
What is an 800 number?
800 number is one of the types of prefixes of Toll Free numbers. The 800 was the first prefix and it is considered to be the "original" Toll Free number. Although there's no difference between this and other prefixes, the 800 is surely the most recognizable.
Can I transfer an existing Toll Free phone number?
In general, yes. Yet, this depends on the current Toll Free number provider that you use. The best way to find out whether you can transfer your current Toll Free number to Channels is to reach out to our Customer Success team via a free live chat.
What is a vanity Toll Free number?
A vanity phone number is a specific type of Toll Free number. The difference is in the looks. Vanity phone numbers include certain words or phrases and are used to stand out from the crowd of your usual 10-digit phone number. A vanity phone number may look like this 1-800-COMPUTERS or this 1-800-REPAIR
What are some additional features that Channels offers?
Channels is the easiest way to build a fully-functioning helpline for your customers. Some features that we offer are IVR, various integrations, mobile app, international phone numbers, call recordings, and live-listening. Most importantly, Channels is a data-powered dialer meaning that it will enrich your every call with client information that you have. Personalize every call and help your customers in a matter of seconds.
How much does a Toll Free number cost?
The price will vary depending on the exact number you choose. In Channels, we offer virtual phone numbers for as low as $4/month.
Does Channels have a mobile app?
Yes. We do have a Mobile app that works on both iOS and Android. It gives you access to all the crucial details that you would want to access via the web app. This includes all your virtual phone numbers, contacts, and call recordings.
Does my business need a Toll Free number?
If your business operates in the US (or sells to the US audience) then yes. Toll Free number is an industry-standard in the USA and if the company doesn't present with one it may be a sign that something is, simply speaking, off.
Is there a difference between the 800, 888, 877, 866, 855, and 844 prefixes?
No. The only difference is in the looks but all of these prefixes work exactly the same. The 800 prefix is considered to be the "original" Toll Free number. Although there's no difference between this and other prefixes, the 800 is surely the most recognizable.
Can I forward Toll Free number to another number?
Yes, you can. The whole gist of Toll Free phone numbers is that you can use them as a sort of a business card but actually take calls using your, e.g. personal phone number.