Connect your company with a Virtual PBX that takes minutes to set up
Make internal and external calls via the Internet without clunky hardware. Virtual PBX is your way to the more efficient communication and productive business.
Channels Virtual PBX means plenty of benefits for your company
No hardware, lower communication costs
Forget about traditional phone lines. With Virtual PBX you can take all your communication - internal and external - over the Internet. This means no additional devices to clutter your desk and lower call rates to lighten the budget.
Connect your company and work remotely with ease
Link your company's communication even if you're distributed over several locations. With Channels Virtual PBX remote work will seem like another day in the office.
Appear professional and distribute calls how you want
Earn your customers' trust using local and international virtual phone numbers. Forward calls to answer them the way that suits you. Professionalism and flexibility combined.
Secure your communication over the cloud
Using Channels Virtual PBX you can sleep well as all your data is housed in a top-tier data center. We know that internal communication and details you share can't be compromised and thus we put another level of security to keep them safe.
Upgrade the software as you grow
Don't limit yourself to just one setup. With Channels Virtual PBX you can change plans depending on your stage of growth. This means you won't ever have to pay for the features you don't use.
You can set up Channels Virtual PBX in less than
3 minutes
1

Sign up for a Free account in Channels

2

Customize your Virtual PBX

3

Get ready to make calls!
Get Your Virtual PBX
So, what exactly is a Virtual PBX?
Let us explain!
In a nutshell, Virtual PBX is a VoIP phone system that transmits calls over the Internet. The Virtual PBX in opposition to the Hosted PBX is a much cheaper phone system that doesn't require any additional hardware or set up fees.
Virtual PBX is a great choice for a business that wants to have a solution for both internal and external communication. That's because such a phone system can serve as an internal communicator between your employees and as a customer service solution or even a sales solution when needed.
What you get with a Channels Virtual PBX
Voicemail to make your service complete
Appear professional even when there's no one to answer the call. Customizable voicemail will help you make your service more complete and accessible.
Record and live-listen to ongoing calls
Record all the calls you make and store them for as long as you want. Plus, with live-listening, you'll be able to support new hires without interrupting their call.
Integrate Channels Virtual PBX with tools you're using
Channels connects to plenty of software to help you fit it right into your workflow. No need to change your software stack as Channels is going to work like another piece of the puzzle.
Make one-click calls right from your browser
Using our Chrome Extension you can make one-click calls from any webpage you're on. Plus, thanks to smart client data usage, you can personalize each of the calls even without prior research or preparation.
Take your communication out of the office
With Channels Mobile app you can handle all the calls right from your smartphone. All your virtual phone numbers, client details, and call recordings can be accessed right from the app.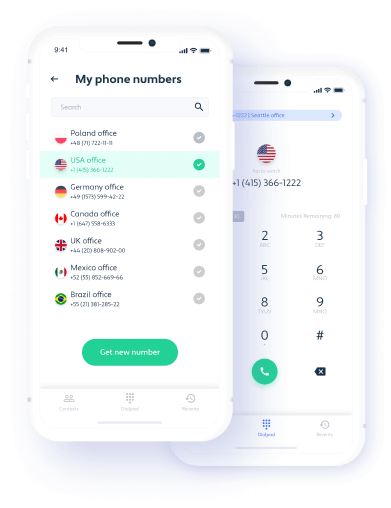 Frequently asked questions
What's the difference between Virtual PBX and traditional phone system?
The main difference between the two systems is that a traditional phone system requires a set up of hardware and the system itself in every place you want to have it. This means additional hustle and set up fees. Virtual PBX, on the other hand, can be configured in a matter of minutes and doesn't require any additional hardware or costs.
Can I switch my current business virtual number over to Channels' Virtual PBX system?
Sure thing. The transfer of your details including your current virtual phone numbers will depend on the exact provider that you use. The best way to find out whether you can make a switch (and how) is to ask one of our Customer Success rep via a free live chat.
How does Virtual PBX differ from VoIP systems like Skype or Google Voice?
There's a ton of difference between the two. Skype and Google Voice are good for personal usage but don't have 99% of the features that a business needs and that are included in a Virtual PBX. Plus, the quality of communication is vastly different and the matter of security would be also worth mentioning.
What is usually meant by the hosted PBX, VoIP PBX, IP PBX, and IPBX?
Hosted PBX is the more classic version of a PBX system that requires hardware and manual set up for it to work. It's used solely by enterprises that can afford to build an internal structure that's hard to operate, set up, and change.