Do business everywhere from anywhere. A virtual phone system that supports remote work.
Channels is a data-powered cloud-based virtual phone system. Try it now and work efficiently no matter where you are.
Channels is a virtual phone system that lets you work the way you want
Handle phone calls on the go
With the Channels Mobile app, you'll never miss a single call. From now on, you can take your phone system with you and have it ready-to-use wherever you are.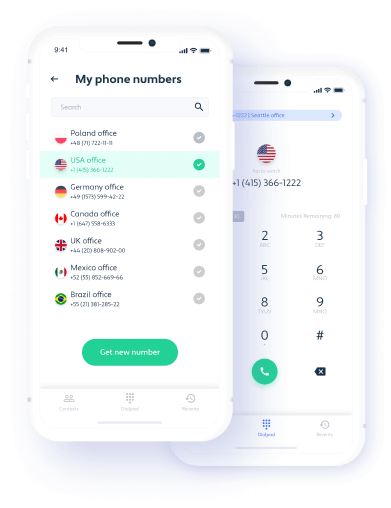 Get started in minutes, not days
Forget about long-hours setup and experts' maintenance. It'll take you less than an hour to get your new virtual phone system started. Plus, onboarding of new hires takes minutes, not days!
Make one-click calls right from your browser
Using Channels Chrome extension, you can handle phone calls right from your browser. Plus, the system will highlight any phone number you encounter, so all it takes to make the next call is a single click.
Answer calls with customer details at hand
While making calls from our Chrome extension, you can access the Customer Card. It is the place where Channels keeps all your client's details so you're always ready for the next call.
You can set up Channels Virtual phone system in less than
3 minutes
1

Sign up for a Free account in Channels

2

Customize your Virtual phone system

3

Get ready to make calls!
Get Your Virtual Phone System
Virtual phone system or On-premise phone system?
Check which one is better for you
Get a virtual phone system built to help you grow
Integrate Channels with tools you love
You can connect Channels with software like Zendesk, Magento, or Pipedrive. Enjoy data-powered phone calls, mutual data sharing, and tons of other benefits that come from integrating Channels with the software you've been already using.
Record calls and live-listen to ongoing conversations
Never forget about important detail or an on-going dispute. In Channels, you can store call recordings up to 365 days. Plus, you can live-listen to ongoing conversations and be a part of the call without interrupting it.
Scale with ease as your business grows
Getting new features in Channels takes no more than a few clicks. Don't overpay for tools you don't need. Upgrade when you grow and when you truly need it!
Still not sure what a Virtual Phone System is?
Let us explain!
Terms like Virtual phone system, Virtual PBX, and VoIP can be confusing. We agree! At the same time, we know that all you're looking for is a reliable calling solution that will meet your business needs. And Virtual phone system is all about that.
In fact, a Virtual phone system is nothing else than a cloud-based phone system, meaning that all you need to use it is Internet connection. This way, you can handle phone calls no matter where you are as solutions such as Channels come with a mobile app so you can have a fully-operating calling system in your smartphone. The biggest advantage of a Virtual phone system, compared to on-premise phone systems, is that you don't need to spend hours assembling everything and there's no need for bulky and pricey hardware.
All in all, a Virtual phone system combines the features of a traditional landline and those of a web application. Thanks to such an approach you get the security and reliability combined with mobility and flexibility. The disadvantages of virtual phone systems are that they're not perfect for big enterprises. This requires much more robust (and often clunky) solutions and is ready to pay an extra price for specialists that will assemble everything and that will be ready to make a change or apply a fix when needed. Still, most of the time a Virtual phone system is all your company needs!
Frequently asked questions
Does Channels have a trial period?
Yes, we do! You can try out Channels for 7 days for free. During that period we give you a free phone number and some $$$ so you can start making calls right away.
What devices can I use Channels with?
You can handle phone calls from your laptop or PC using our Channels Chrome Extension. And you can do the same using your smartphone through the Channels Mobile app.
Can I use my own current business phone number to make calls in Channels?
Of course. You can use your current business phone number as a primary phone number or you can transfer calls from a Channels phone number to your own business phone number.
Can I make international calls?
Sure thing. We offer one of the best international call rates so you don't have to break the bank to go global. Plus, we have international phone numbers from more than 60 countries for you to choose from.
Can I have a toll-free and a local number?
Yes! We offer a wide range of virtual phone numbers including Toll Free, 800, Vanity, and Local phone numbers.
How do I add more employees to my small business phone system?
Adding more employees is very simple. You can send an invite right from your admin panel and the person you send it to will receive all the details they need to set up their account.