Separate Business From Personal with a Virtual Phone Number
Choose from a variety of Toll-Free, Vanity, 800, and Local Virtual Phone Numbers and connect with your customers in a professional way.
called with Channels and still counting…
Use Channels' Virtual Phone Numbers to make your brand more professional
Turn your phone number into your company's business card
A virtual phone number is the best way to keep your business separate from personal. This way you can contact your customers in a professional way and retain your personal number private.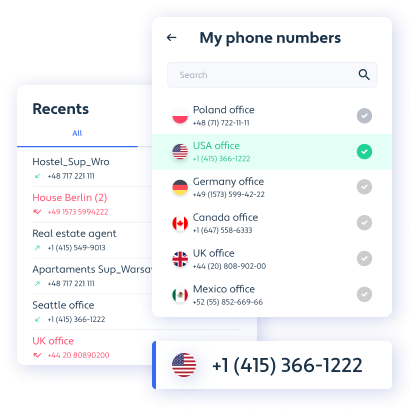 Organize your business calls and be on top of the progress
Channels stores all your business calls and virtual phone numbers in one spot. No more browsing through various contact lists and personal notes. Plus, you'll never miss a call thanks to both the Mobile and Web app.
Be accessible from every part of the world
If your company serves worldwide so should your customer support. With over 60 international phone numbers in various configurations - local, vanity, toll-free, 800 - contacting your brand will be equally easy for your worldwide customers.
Companies of every size, shape, and kind level up with Channels
I've used Channels for a while and I see no other way of contacting my customers. It's a great customer service that offers what's essential with no needless fluff. Your virtual phone numbers took my customer service to the next level. Contact management and getting back to clients went from painful to as easy as it can be.

2way.app
What you get with a Virtual Phone Number
Record calls and live-listen to ongoing conversations
Record your calls and store them up to 365 days. Call recordings are great for training customer service reps and new agents. Plus, they give you a way to go back to any conversation you want. And with live-listening, you can join any call you need without being an active part of it. Support your reps without interrupting the caller.
Handle business calls using your favorite device
Use your new phone system wherever you want to. With our Mobile app, you can handle business calls even when out of the office. And with our Click-to-Call widget, you'll be able to make and take phone calls right from your browser. No matter on what webpage you're currently on.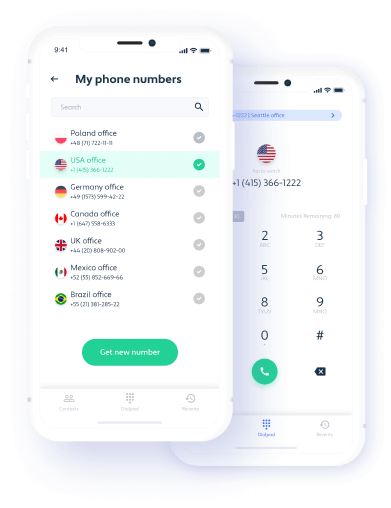 Fit Channels into your workflow
Channels integrates with platforms you're currently using to pull crucial customer data from them. Then, when your customers are calling, Channels presents all this information right in front of you in the form of a Customer Card. This way you can handle every call like you know it all. And, you can access this information right before the call starts.
It's not our opinion but our customers' experience
We've had less confusion with getting back to our clients and answering their requests. Customer Card is a game-changer. It let us cut the average phone call duration by half. Since the switch, we've been using your widget daily with no hiccups or complaints.

StartupMakers
I don't get this whole Virtual Phone Number thing
Why would my business need that?
A virtual phone number is nothing else than your regular telephone number. Yet, instead of using a standard PBX system, it uses a Virtual Phone system. Such telephone numbers are not directly associated with a telephone line and are often referred to as the DID number or an access number.
The reason why you'd want to use virtual phone numbers is that you can program them to forward incoming calls to other numbers. For example, you could answer business calls using your personal phone number without showing it to keep it private. Alternatively, you could use a virtual phone number as a regular, additional phone number to represent your business. Also, virtual phone numbers offer a full variety of telephone numbers. You can choose from toll-free, vanity, 800, and local phone numbers and thus offer your customers the best way to contact your business.
Get started for free
Improve your business
Frequently asked questions
Can I have multiple virtual phone numbers?
Yes! You can add as many numbers as you want. We offer a variety of virtual phone numbers for as low as $4 per number. You can add and remove your phone numbers whenever you want with no limits.
Are virtual phone numbers "real" telephone numbers?
es, a virtual phone number is a real telephone number. The only difference is that it is linked to an online account rather than a physical system.
Can I forward virtual phone numbers to another number?
Yes, you can. The whole gist of virtual phone numbers is that you can use them as a sort of a business card but actually take calls using your, e.g. personal phone number.
Can I choose a local area code outside of my city/state?
Of course! Getting a virtual phone number from outside your business' physical area can help you reach new audiences and expand your venture. And with Channels, it's easier than ever!
Who owns the virtual phone number I purchased?
You are the owner of the virtual phone numbers that you buy. No worries, no one will take your virtual phone numbers from you. You're the boss here.
Can I get a virtual phone number for free?
They say that nothing is free but by registering to Channels you will get a free virtual phone number! The first one is on us and you can add more virtual phone numbers for as low as $4 per number.
What is the vanity phone number?
A vanity phone number is a specific type of toll-free numbers. The difference is in the looks. Vanity phone numbers include certain words or phrases and are used to stand out from the crowd of your usual 10-digit phone number. A vanity phone number may look like this 1-800-COMPUTERS or this 1-800-REPAIR
What is the difference between 800 and toll-free numbers?
There's no difference between the two. 800 numbers are the most popular type of Toll-free numbers. That's why most businesses choose them as their customers intuitively know that this is a toll-free number.
Do I need any hardware to use a virtual phone number?
Nothing fancy. All you need is your standard device such as a laptop, PC, or smartphone.
Why do some phone numbers have an address requirement?
Sometimes we may require you to provide information such as your business or personal address to register a virtual phone number. This is due to the local regulations of an area that the number comes from.
Can I get a virtual phone number in my area code?
Yes. We offer virtual phone numbers from more than 60 countries including, e.g. the USA, Canada, or the UK. Thus, you can choose from phone numbers with your area code, as well as, from outside of it to expand your business.
Can I choose my virtual phone number?
Yes, this relates to the first free phone number that we give you and any future virtual phone number that you'd like to get. You can choose your phone number in regards to its type, local area, and formatting to get exactly what you want.