Features that help your business grow
Designed to serve your customers how they deserve it. With business needs in mind.
Improve your online store and drive customer satisfaction
Leverage customer data from your favorite eCommerce platforms
Integrate channels with online store platforms such as Magento and Shopify to get customer details right when customers call you.
Shorten the time your agents and customers spend on the phone and therefore improve their satisfaction. Have shorter but more meaningful and straight-to-the-point conversations.
Speak to your customers like you know it
Instead of having interviews, get straight to the point while talking to your customers with details such as their full name, order details, latest calls, and more.
Your customers will appreciate the short resolution time and how well you handle their calls. Make customer support phone calls feel less like a must and more like a way to win life-long customers.
Handle calls no matter time and place
Using our Mobile app, you'll be able to talk to your customers wherever you are. Flexibility at your hands to make sure each and every one of your customers stay.
Plus, you can carry on with the call using your smartphone and look up the customer data on the Click-To-Call widget using your laptop or PC.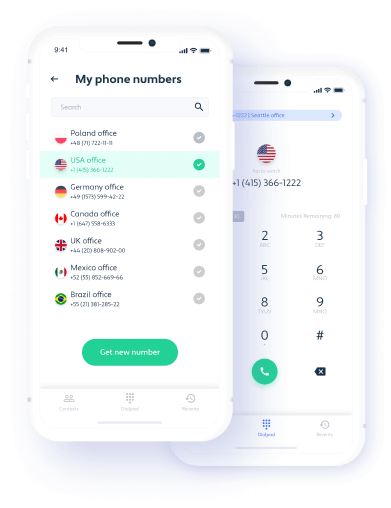 Offer support center that your customers actually want to use
Make it easy to connect no matter where your customers are from
With phone numbers from more than 60 countries, you'll make it easy for your customers to contact your company. Introduce yourself with their local phone number and appeal to your worldwide audience.
The thing is, all companies struggle to improve their contact rate and local phone numbers are the best way to do so. And, your company will feel more familiar with the phone number from your recipients' country.
Call global with ease and the lowest rates on the market
Using Channels you can call any country you want. Forget about high fees and connect with your customers from all over the world with no risk to your budget.
We make sure to offer the best rates available with no compromise to the quality of calls. And that is what we call the proper price-to-quality ratio.
Connect your customers directly to the right agent
Implement IVR and let your customers choose which department they want to talk to. Limit time you put your customers on hold or have to redirect them and improve their satisfaction and loyalty.
With this technology, you'll be able to record a welcoming message and let your customers choose a number on a keypad to connect to a specific agent. This way they're instantly directed to the appropriate person who'll help them with their case.
Record calls and never lose an important conversation
Record and store your phone calls even for the lifetime of your account. Lose no important detail and get back to any conversation you want.
Of course, we put extreme measures when it comes to privacy. Thus, your calls are stored safely with no 3rd-party entities able to access them.
Make it a no-brainer for your customers to connect with you
Offer toll-free numbers and allow your customers to call your company with no additional costs on their side.
With such setup, you can be sure your customers will call you with any issue they'd like to get resolved. And fewer issues means more happy customers.
Assist your customers from anywhere in the world
Make and take calls no matter where you are using your smartphone, laptop, tablet, or PC. Using both Mobile app and Click-to-Call widget you can handle calls with ease on any device of your choice.
And, if you wish, you can combine two devices and handle your call using a smartphone and look up the customer details on your laptop using a Click-To-Call widget.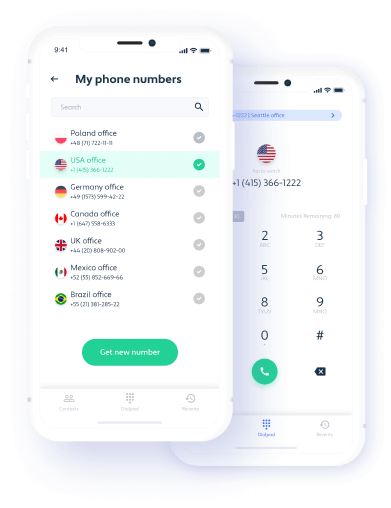 Integrate Channels with the software you're already using
Get crucial customer data from platforms of your choice
Channels integrates with your favorite platforms to help you make use of customer data you collect. Using such details as your customer's full name, order details, and latest contact points you can get straight to the point and improve their satisfaction and loyalty.
Make your live chat more versatile
Channels integrates with your favorite live chat solution and help you make it even more versatile. From now on, you'll be able to offer callbacks to clients who prefer calling your agents instead of talking to them through chat. After all, not every issue can be handled over the chat.
Carry the call on any device you want
Channels lets you carry on calls no matter the device you want to use. Answer the call on your smartphone and finish it using your laptop. Also, you can carry on the call using your mobile phone and use your laptop to get customer details displayed though the Click-to-Call widget.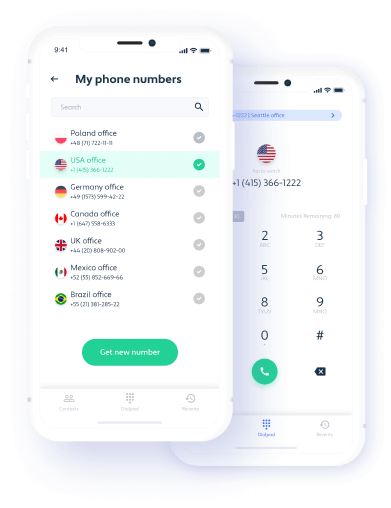 It's time for your move
Ready to try us out?

We offer a 7-day free trial. No credit card required, cancel anytime you want.

Sign Up Free

Want to check the price first?

Make sure you get the most value for the best price. With three flexible plans, you'll surely find the one that suits your needs.

See Pricing

Need an expert's guidance?

Our representative will give you a hands-on tour of our software. This will help you decide whether it's worth to make a purchase.

Book a Demo